Happy #TBT (Throw-Back-Thursday)
Ever the fashionista, this is me in my ballet and tap recital ensemble. I had to be about 8 years old. I took ballet and tap at "Dance, Dance Wonderland" (who wouldn't love going to a place named that??) and would look forward to my mom dropping me off faithfully Saturday after Saturday. I think I was probably more excited to put on my leotard and tutu than the lessons themselves. So once our recital had come and gone, I still had to dress the little dancer, or should I say fashion maven inside. I used to put this costume on every chance I got. It was the perfect outfit. So my look was a tutu over my tap leotard that had fringe at the waist, worn with fishnets to finish it off. How could you not love sequins, fringe and a tutu??? When guests came over, I would have to go and put on my most sparkly and special outfit and do a few dance moves - hence the tambourine.
Don't get me started on the ballet slippers and tap shoes. My older sister and I would stand on our toes and pretend we had on toe shoes…painful, but it's no different than today when we wear uncomfortable shoes all in the name of fashion. I think up until I was about 11 years old, I would still try to cram my foot in my tap shoes. The patent leather shined so much and made noise. Met all of the requirements for that age. I once tried to stretch them in the freezer because I saw that if you put Ziploc bags filled with water in them then freeze them, they would expand the size. Let's just say that wasn't the truth on a pair of 3 year-old, two sizes too small tap shoes.
So what you have learned about the 8 year old Alela that is still true today is that I love a little theatrics in my clothing, and I understood at a young age the sacrifice you sometimes have to make with shoes in the name of fashion.
I often hear the question 'what would you tell your younger self? ' I would tell the eight year old me to embrace herself and figure out how to incorporate a tutu or sequins into her private school uniform because fashion is your future!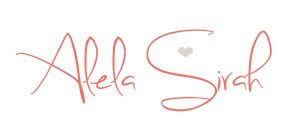 Many of you who read Fashionably Speak'n are bloggers too, how would you like to win some free ad spaces? Free ad space on 7 awesome blogs, to be exact. What if that prize also came with a $100 Etsy gift card and $45 PayPal cash? Where do you sign up? Oh, just use the Rafflecopter below. :) Be sure to say thanks to all the beautiful bloggers who made this possible!
Life Could Be a Dream // Life With Amberly and Joe // Two Places at Once
A Beautiful Exchange // Making Mrs. M // Wetherills Say I Do
Chez•Nemmar // Ruffled Paper // Sierra's View
Fashionably Speak'N
Ad Space prizes include:
1 month of Feature Ad Space on
Life Could Be a Dream
1 month of The High Life Ad Space on
Life With Amberly and Joe
6 months of Sweetest Ad Space on
Ruffled Paper
1 month of Large Ad Space on
Two Places at Once
1 month of Large Ad Space on
Chez•Nemmar
2 months of Small Ad Space on
A Beautiful Exchange
1 month of Small Ad Space on
Wetherills Say I Do
The Rules
The giveaway will run from 12:00 am EST on August 21st until 11:59 pm EST on August 27th. The giveaway is open to US residents only. Entries will be verified, so don't be a loser–be honest with your entries. There will be one winner for these awesome prizes. The winner will be contacted via email and will have 48 hours to claim their prize, or a new winner will be drawn. Good luck!